What Makes Dried Fruits Healthy?
Dried fruit has long been used as a source of vitamins and minerals that can last year-round. There are records of the Persian and Arab cultures enjoying dried apricots more than a thousand years ago.
Whether it's baked with bread, or added to your trail mix or to your morning smoothie. Dried fruit has long been used as a source of vitamins and minerals that can last year-round. 
#1 Dried Fruits for Antioxidants, Micronutrients and Fiber
Dried fruit is highly nutritious. One piece of dried fruit contains about the same amount of nutrients as the fresh fruit, but condensed in a much smaller package. By weight, dried fruit contains up to 3.5 times the fiber, vitamins and minerals of fresh fruit.
Therefore, one serving can provide a large percentage of the daily recommended intake of many vitamins and minerals, such as folate.
Dried Fruits are known for their significantly high amounts of fiber and antioxidants, especially polyphenols. Polyphenols help in increasing the blood flow, better digestion and prevents against oxidative damage.
#2 Whether it's Green or Black Raisins, they reduce the risk of certain diseases!
Raisins are dried grapes. They are packed with fiber, potassium and various health-promoting plant compounds.
They have a low to medium glycemic index value, and a low insulin index. This means that raisins should not cause major spikes in blood sugar or insulin levels after meals. 
Studies show that Raisins may
Lower blood pressure

Improve blood sugar levels

Decreases inflammatory markers and blood cholesterol

Lead to increased feeling of fullness
All of these factors should contribute to a reduced risk of diabetes and heart diseases.
#3 Apricots are Natural Laxatives and May help Fight Diseases
Dried apricots act as a natural laxative and are shown to improve stool frequency and consistency. Apricots are more effective than psyllium, which is commonly prescribed for constipation. 
They are highly nutritious, being rich in fiber, potassium, beta-carotene (vitamin A) and vitamin K.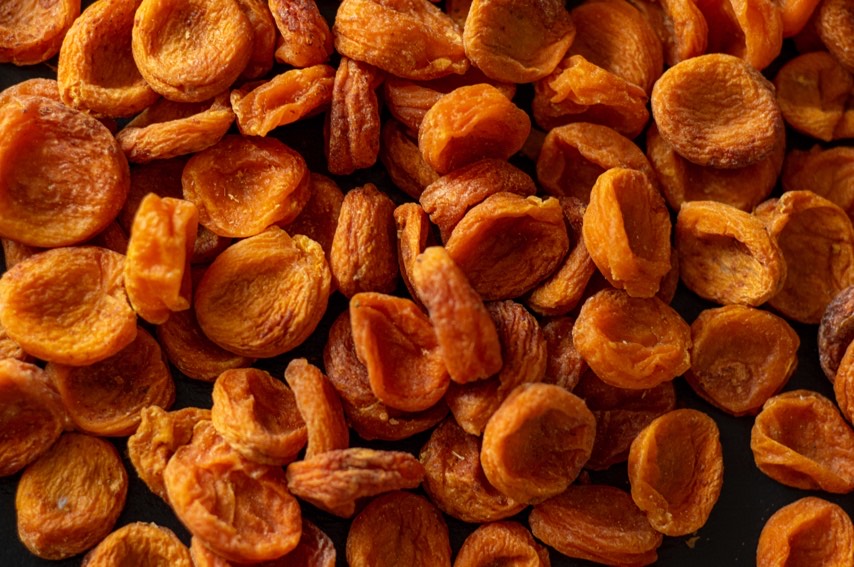 As a great source of antioxidants, apricots may inhibit the oxidation of LDL cholesterol and help prevent heart disease and cancer.
#4 Dates benefit pregnancy, and prevent many diseases!
Dates are incredibly sweet. They are a great source of fiber, potassium, iron and several plant compounds.
Of all the dried fruit, they are one of the richest sources of antioxidants, contributing to reduced oxidative damage in the body.
Date consumption has also been studied in relation to pregnant women and labor.
Eating dates regularly during the last few weeks of pregnancy may help facilitate cervical dilation, as well as decrease the need for induced labor.
At the end of the day, dried fruit is certainly a much healthier and more nutritious snack than chips or other processed junk foods.